Welcome to the Jacks of Color Community. Bringing you the hottest private parties for gay men of color and our admirers.
Jacks Of ColorPrivate Parties For Men Of Color
J.O.C. UPDATE: 5/21/17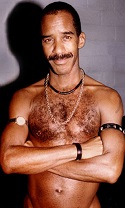 J.O.C. WEEKLY
By Jacks of Color Owner/Operator,
Lidell Jackson
Hey, LIDELL Here:
With GREAT THANKS to All You Fellahs who attended Our Jacks Of Color "RAINBOW 3RD THURSDAY SPECIAL" this past May 18th at "Rainbow House Playgrounds" In Astoria, Queens! . . . A fun time was definitely had by all -- and we can't wait to return on 1ST THURSDAY, JUNE 1ST [ btw, a special note of thanks to IVAN -- "you're a prince among men"! ] . . .

And now, we feature another one of Our Favorite Events: Our J.O.C. HOT "Chelsea Space" CO-PARTY with the G-R-E-A-T Fellahs from "Men In Boots"! . . . So, Get Ready for Our JACKS OF COLOR "CHELSEA SPACE/PADDLES BACK-TO-BACK WEEKEND":

Our J.O.C. event, SPECIAL CHELSEA SUNDAY CO-PARTY WITH THE MEN FROM "MEN IN BOOTS"! SUNDAY EVENING, MAY 21st at CHELSEA SPACE in Chelsea, Manhattan -- doors 7pm to 11pm, goes 'til 12am
~~ $20 Donation, plus $2 Clothescheck ~~


Our J.O.C. event, MAY MASSAGE-&-PLAY MONDAY #4! MONDAY EVENING, MAY 22ND at "Paddles" in Chelsea, Manhattan -- doors 7PM to 1AM, goes 'til 2AM
[ with ROGELIO as Our Resident Masseur ] . . .
~~ $20 Donation, plus $2 Clothescheck ~~
[ Also in attendance will be the representatives from HOUSING WORKS YPS (Youth and Prevention Services), offering confidential Full STI screening panels including 4th generation HIV, lab-based syphilis, as well as self-collected gonorrhea and chlamydia testing ] . . .


And We Certainly Can't Forget Our FASCINATING JACKS OF COLOR "MASSAGE-&-PLAY MONDAYS," 7 PM to 2 AM At "Paddles," with Resident Masseur ROGELIO -- now Alternating with LEWIE Every Other Monday . . . [ This past Monday's "M&P Party" had a "whopping" 61 Men in attendance -- THANKS, FELLAHS! ] . . . Massages are 20 minutes, and they're free -- but he requests a $5 or $10 tip from everyone . . . Upcoming MASSAGE & PLAY MONDAYS are:
MAY MASSAGE-&-PLAY #4, MAY 22ND;
MAY MASSAGE-&-PLAY #5, HOLIDAY MONDAY BK/ForbiddenFUNK TRIBUTE PARTY," MAY 29TH;
JUNE MASSAGE-&-PLAY #1, GAY-PRIDE-MONTH MONDAY, JUNE 5TH; AND
JUNE MASSAGE-&-PLAY #2, FULL-STRAWBERRY-MOON MONDAY JUNE 12TH!
Lastly, to get everyone all "hepped up" for "ForbiddenFUNK Memorial Day Holiday Massage Monday!," let's feature TWO Invites of ForbiddenFUNK MEDIA J-Pegs! . . .
That Said, Join Us for Our JACKS OF COLOR "MASSAGE-&-PLAY MONDAY EVENINGS," And "SATURDAY AFTERNOON, FRIDAY EVENING And SATURDAY EVENING SPECIALS" At "Paddles," Our JACKS OF COLOR "CHELSEA SUNDAY NIGHT SPECIALS" At "Chelsea Space," And Our JACKS OF COLOR "1ST And 3RD THURSDAY SPECIALS" At "Rainbow House Playgrounds" in Astoria, Queens . . . There'll be some Hot Times, with Hot Crowds of Men Of Color " And Their Friends"! -- "Peace," Lustily, LIDELL ;>)