Welcome to the Jacks of Color Community. Bringing you the hottest private parties for gay men of color and our admirers.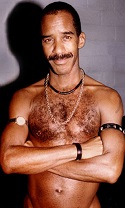 Lidell Jackson's Biography
Jacks' of Color Owner/Operator
LIDELL JACKSON is the co-founder and organizer of Jacks Of Color, a safer sex club for Men of Color and Their Friends, founded in February 1990 to create a safer sex environment for the gay Men Of Color community in New York City.
Born and raised in Memphis, Tennessee, he has been an activist within the lesbian, gay, two spirit, bisexual and transgender community of New York City since his arrival in September '76. He is a charter member of Men of All Colors Together/New York, a multiracial group of gay men against racism, which he joined in 1980; former co-coordinator of The Lesbian and Gay People Of Color Steering Committee, a coalition of over 30 NYC-based Lesbian and Gay People Of Color organizations; co-founder and former co-Managing Editor of two quarterly publications -- COLORLife!: The Lesbian, Gay, Two Spirit and Bisexual People Of Color Magazine, and Black Leather In Color! Magazine: Leather On The Cutting Edge for People Of Color And Their Friends.
Mr. Jackson is one of the co-Founders and Board-Emeritus of The Audre Lorde Project, this nation's only lesbian, gay, two spirit, bisexual and transgender People of Color community center, located in Fort Greene, Brooklyn. He is also co-founder and the former publicist, administrative and musical secretary of Lavender Light: The Black and People of All Colors Lesbian and Gay Gospel Choir.
He has served as a Board member of Mama Doesn't Know! Productions, a People Of Color lesbian and gay production company; an Advisory Board member of OutPOCPAC: Out People Of Color Political Action Club; and a member of New York Panthers Leather Club; Gay Men of African Descent, Metro Gay Wrestling Alliance, Knights Wrestling Club, Males Au Naturel, and various other gay male social and recreational clubs.
Mr. Jackson served as one of the organizers of the annual United Voices / United Visions People Of Color Pride Weekend during June Pride Month, and is an alumnus of the Board of Directors of The Lesbian, Gay, Bisexual and Transgender Community Center, the Board of Directors of Washington Square Methodist Church, and a former co-host of "The Gay Show" – a precursor of "Out-FM New York" on WBAI Radio 99.5 FM.
He was also significantly involved with the Media, Scholarship and Logistics Committees of Stonewall 25: The International March on the United Nations to Affirm the Human Rights of Lesbian and Gay People, in New York City in June '94; the June 27, '94 Third World/People Of Color Institute for the International Lesbian and Gay Association; the October '93 March On Washington for Lesbian/Gay Rights and Action on AIDS; the People Of Color Caucus for the October '87 March On Washington for Lesbian/Gay Rights and Action on AIDS; the '88 Lesbians and Gays for Jesse Jackson Presidential Campaign; the June '89 NYC conference of The International Gay and Lesbian Youth Organisation; and in many other political and progressive efforts.
Mr. Jackson has been featured in a community profile, "An Activist -- On Many Fronts," in New York Newsday (March 7, 1995); honored by The NYC Gay and Lesbian Anti- Violence Project as a "1996 Community Hero," and highlighted as one of the "30 Most Influential Lesbian and Gay New Yorkers" by L.G.N.Y. Newspaper (now, Gay City News).
In addition, for a number of years Mr. Jackson was a Broadway performer, dancing and singing in the productions of "A Chorus Line", "Bubblin' Brown Sugar" and "Your Arms Too Short To Box With God", among others, and in the films "Fame" and "All That Jazz", the latter in which he was stand-in for Ben Vereen. He has also studied repertory with the Alvin Ailey American Dance Theatre, Dance Theatre of Harlem and the Joffrey Ballet. He credits his considerable knowledge of dance to Dick Andros, at Ballet Academy East, with whom he has studied since 1976, and to Julie Strandberg, the Director of Dance at Brown University where he began his dance career in 1971. He has also studied vocal direction with Chapman Roberts since 1977.
Mr. Jackson has a Bachelor of Arts/Science degree in Applied Mathematics from Brown University, Providence, Rhode Island, Class of 1973.