Welcome to the Jacks of Color Community. Bringing you the hottest private parties for gay men of color and our admirers.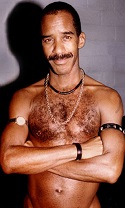 J.O.C. MISSION STATEMEN
By Jacks of Color Owner/Operator,
Lidell Jackson
THE MISSION OF JACKS OF COLOR SAFER SEX CLUB FOR GAY MEN OF COLOR
JACKS OF COLOR is New York City's pre-eminent safer sex club for Men of Color "And Their Friends. " Originally created in February 1990 as a Jackoff Club exclusively for Men of Color, it quickly metamorphosed into a more "Full-Service" Action Club – and within months started offering parties for Men of Color "And Their Friends.&quot. JACKS OF COLOR offers a venue for fraternization for gay men of all colors, ages and physical characteristics, thereby fighting discrimination and promte race relations within the gay male community. JACKS OF COLOR provides weekly safer sex parties, where condoms and lube are available for those who feel the need to use them. Munchies, soda, juice, water and ice are free and there is a $20 donation, plus $2 mandatory street clothes check for each party. Refer to the home page for schedule, location and current club news.