Welcome to the Jacks of Color Community. Bringing you the hottest private parties for gay men of color and our admirers.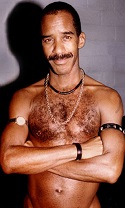 I THOUGHT IT WAS OVER ...
By Lidell Jackson
Written expressly for A Gay Man's Guide to Prostate Cancer:
LIDELL JACKSON is a retired former Ballet and Broadway Dancer, and a longstanding political activist in the New York City lesbian, gay, two spirit, bisexual and transgender community. Born and raised in Memphis, Tennessee, he holds a Bachelor of Arts Degree in Applied Mathematics from Brown University, Class of '73.
Keywords and Phrases:
Prostate Cancer
Seed Implant Surgery
Post-Surgery Complications
Prostate Cancer Medications and Side-Effects?
Challenging Doctors
Prostate Cancer and HIV-Positivity
Alternative Healing Therapies
Gay Men Of Color and Health
Prostate Cancer as an African American Gay Man
Prostate Cancer as a Sexually-Active Gay Man
Prostate Cancer, Erection and Libido
Abstract
Being a physically fit and sexually-active African American gay man of mature years -- and having addressed my prostate cancer by undergoing seed implant surgery -- my post-surgery experiences have proven to be far more challenging than I initially realized. Determined not to be daunted by these experiences, I am now maintaining a positive health picture, and welcome the opportunity to tell my story in the hope that it will help others -- especially Gay Men Of Color -- who find themselves in a similar situation.
*****
- 1 -
I was extremely pleased to write my previous article, Surviving YET Another Struggle, in June 2003 for The Journal of Gay and Lesbian Psychotherapy. It was important to me that the experiences of a mature (then 54) African American gay man surviving prostate cancer should be chronicled in the book. Moreover, I felt that my history as an HIV-positive survivor provided an interesting and important frame of reference.
As I sit here in December 2010, in the Emergency Room of St. Luke's Hospital in upper Manhattan, dealing with a bladder infection, I am faced with the reality that this "prostate cancer fight" is far from being over. I suppose I had been lulled into a false sense of security by what had become "seasonal" visits to my urologist and my radiation oncologist. The last two visits had yielded PSA readings of 1.7 and 1.3 respectively (when I was originally diagnosed in August 2001, my PSA was 20.5).
My primary care physician had switched my medication from Flomax to Uroxatral, and since early 2003 I had "weaned" myself from twice-a-day doses, to once-a-day, every 36 hours, every 48 hours to what was now twice a week (Sunday morning, Wednesday afternoon). It seems now in retrospect that I was being overly ambitious.
I admit – one of the consequences of surviving HIV for so many years, is a tendency toward self-diagnosis. I seroconverted in January '91; I tried using homeopathic medications to address the HIV in my system (having been on homeopathic medicine since my dance days of the early '80s); I finally switched to the "HIV cocktail" in Summer '99 after an especially harrowing case of Spinal Meningitis.
So it hasn't seemed unusual to me that I would adopt the same practice of self-diagnosis with regard to my prostate cancer. After all, I had chosen seed implant surgery over the numerous other options of treatment available – and I had seen a number of doctors before I had found one who agreed to adopt my method of treatment.
- 2 -
What I didn't count on, was the side effects of the medications. Flomax may have served its purpose of assuring a "maximum flow" of urine through my bladder – but the attendant burning urination, occasional incontinence, and significant lack of ejaculate were all conditions through which I had to suffer for at least a couple of years after my surgery.
After taking Uroxatral for a few months, my pharmacist found a program that made the medication considerably more affordable. However, I have seemed to have been under the assumption that I would eventually no longer need the Uroxatral – apparently I'm wrong. This recent emergency room visit is the second bladder infection episode I've had.
The first occurred back in 2004, when I had trouble affording the Flomax medication and spread the doses over such long periods of time, that bacteria developed in my bladder. By the time I made it to St. Vincent's ER, at my primary care physician's insistence, I was so badly off that I had to be hospitalized – and was told that if I had waited just a few hours longer, I would have suffered renal failure, and perhaps lost a kidney!
The bottom line here, is that I've really thought all this time that at some point I would no longer need prostate care medication, and eventually this entire "situation" would be finished. But it's becoming sadly apparent to me, that I will be living with this disease for quite a while – essentially the rest of my life.
I say "sadly" because, as with HIV, I've been assuming that my prostate cancer is "chronic but manageable." However, I'm facing the reality that it is neither. There are periods of seemingly benign inactivity, interspersed with episodes of dire circumstance – so much for chronic. And although the medication is supposed to ensure maximum urine flow, I'm not certain what positive effects it has on my prostate. It's also extremely disheartening to think that this disease is manageable – only to have these episodes flare up and leave their continuing deleterious effects.
* * *
- 3 -
On the upside, however, there have been some benefits in dealing with my present situation. The most significant, of course, is that I didn't ignore the warning signs but immediately dealt with the presence of prostate cancer in my system. I think years of dealing with HIV have laid the groundwork for that
Moreover, I've been able to make my experience public, by placing both my previous article and this article on my web-site. This has been an invaluable benefit for the many gay men within my community who have had to deal with prostate cancer issues – and in particular, I'm grateful that so many gay men of color have thanked me for alerting them to similar circumstances in their lives. Given that prostate cancer tends to affect African American men disproportionately more than other men, I am especially pleased that recounting my experiences here can prove to be of service.
There is also a surprising benefit from having to endure this whole ordeal, in that it has provided me the opportunity to monitor my general health picture much more vigilantly. Regularly scheduled doctors' visits – involving everything from blood work, weight and blood pressure readings and EKGs, to the occasional CAT scan or colonoscopy – have become a necessary but not at all dreaded part of my life. As I look at my heterosexual counterparts, many of whom allow their health to decline through nothing more than benign neglect (and I include members of my biological family in this category), I feel practically blessed that I'm able to play an active role in prolonging my life.
Lastly, there is something to be said for "owning the disease." For years after being diagnosed, I saw prostate cancer as a sort of "necessary evil" that I had to endure, but would eventually eradicate from my life. My new reality, is that this is a disease that I have, that I've had for some time, and that I must admit is a part of my life that is here to stay. That means owning up to the disease – admitting that it exists, and being realistic about dealing with it. Perhaps years of keeping HIV at bay has somehow inured me in a certain way. However, this is different. Even writing this article has pointed that out to me.
And so I'll persevere. Now all I have to do, is get my PSA down to an undetectable level – and then I'll be REALLY happy!
Respectfully Submitted by LIDELL JACKSON, February 2011